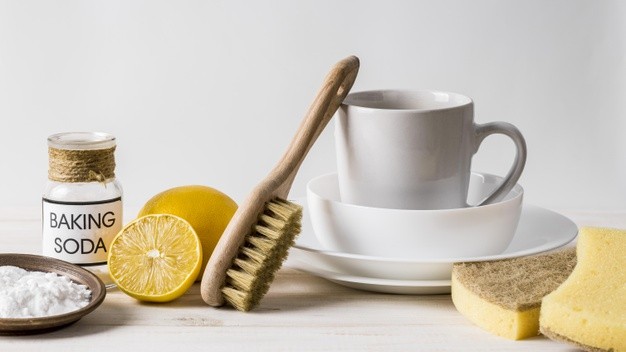 Awesome Homemade Bathroom Cleaner Recipes!
14/03/2021
Homemade Bathroom Cleaner Recipes. Are you tired of the solid and chemical odors of bathroom cleaners? Want something green and clean (and cheap) to clean the tile, shower, toilet, and sinks? Have a look at these fantastic homemade bathroom cleaners!
Tub and Tile:
Standard tub and tile cleaners are strong in chemicals unsuitable for your skin or lungs. Grab a jar and fill it up with:
-1 ½  cups of baking soda
-½ cup of warm water
-½ cup of liquid soap (you can use powdered or flaked too, add more water)
-2 tablespoons of white distilled vinegar, or apple cider vinegar
Shake well before using and scrubbing the tub. You can even add a little lemon juice or lemon pieces to add a little more acidity to the mixture, which will help to eat away grime with less scrubbing and leave a pleasant fresh lemon scent! Note: this can be stored in a jar, NOT a spray bottle.
Toilet Cleaner:
It is so easy you won't even need to scrub! All you will need is:
1 can of Cola (Coke / Pepsi etc.)
1 cup of baking soda

1 cup of white distilled vinegar
Dump the Cola right into the toilet and let it sit for about ten minutes, then flush. Add the vinegar and baking soda to the toilet, stirring or scrubbing until the mixture stops bubbling. If you have tough stains, you can scrub them, but you should be able to flush them, then walk away! The soda, vinegar, and baking soda mixture will also help keep the pipes clear of buildup!
Mirror and Chrome fixture cleaner:
Shine up the glass and metal in the bathroom with this super easy mix. Here is all you will need:
-newspaper
-2 tablespoons of white distilled vinegar
-3 cups of warm water
Mix the vinegar and water in a spray bottle, spray the surface, then wipe the mirror down with the newspaper. Super simple!
DIY Toilet Bomb Cleaner recipe
Ingredients:
1 cup baking soda
1/4 cup citric acid
40 drops of essential oils (I like tea tree and lemon)
1-3 tsp. water
Add baking soda and citric acid to a mixing bowl and stir well to combine. Add essential oils, one at a time, and mix well after each addition. Slowly sprinkle about 1/4 tsp. Water into dry ingredients, and immediately mix well. Repeat with about two more 1/4 tsp. of water, one at a time, mixing well between each addition, until the mixture is damp enough to hold together when packed, like the perfect, wet sandcastle building sand. Pack the mixture tightly into the mold, pressing corners in well. Allow drying overnight for at least 12 hours. Remove from mold and store in an open container.
NATURAL BATHROOM DISINFECTANT CLEANER
The bathroom is the number one place  to clean and sanitize to prevent the spread of germs. I did some more digging into commercial cleaners and what I found out made my skin crawl more than germs: Manufacturers of cleaning products in some countries do not have to test their products to make sure they are safe for people or the environment. Manufacturers do not have to list all ingredients on the cleaning products label. Overuse of antibacterial chemicals is causing bacteria to become antibiotic-resistant.
Some More info about commercial disinfecting cleaners: Bleach and other commercial cleaning products can contain hazardous chemicals and indoor air pollutants (VOCs) that can cause both immediate and long-term health problems- We're talking asthma, hormone disruption, heart disease, cancer, headaches, eye irritation, congestion, and nausea.
Homemade disinfectant:
1 – 1 1/4 cup hot water
¼ cup washing soda/sodium carbonate (or baking soda/sodium bicarbonate)
1/2 cup vodka
Ten drops of tea tree oil
Five drops of Eucalyptus essential oil (optional); Five drops of lavender essential oil (optional); Five drops of rosemary essential oil (optional)
Combine hot water and soda in a glass bottle. Shake well to dissolve. Pour vodka and essential oils into the bottle. Shake to combine.
When using, wear gloves, spray the area and scrub until very clean. To disinfect, you must mist it again with a cleanser and allow it to remain wet for a few minutes to kill all bacteria. Note: You must rinse well or the cleaner will leave white streaks from the soda. If you want a non-rinse cleaner, you can leave out the soda.
These ingredients work because Sodium carbonate (washing soda) is a highly alkaline substance with a pH of almost 12 (on the pH scale that ranges from 0 to 14 ). This high alkalinity means that it is a powerful cleaning agent that can neutralize acidic fluids such as bile and urine and effectively clean other substances such as oils, fats, greases, and proteins.
Ethanol is commonly used as an active ingredient in hand disinfectants. Healthcare workers are advised to use alcohol-based hand disinfectants for routine hand disinfection. Most vodkas have a minimum ethanol content of 40%.
Tea tree essential oil has a deep herbal scent and is anti-viral, antibacterial, and antifungal.
Eucalyptus essential oil has a fresh, slightly medicinal smell and was used in traditional medicine as an antiseptic. It has strong deodorizing properties.
The lavender essential oil has a relaxing floral scent with antibacterial and anti-viral properties and has been used to treat fungal infections.
Rosemary has a fresh scent that is reminiscent of pine and mint. It has antimicrobial and antiseptic qualities.
Note:
Use this cleaner on hard, non-porous surfaces, such as floors, walls, bathtubs, tile, and grout. (Check natural stone surfaces with your manufacturer.)
Always clean bathroom surfaces and then disinfect. Cleaning vigorously with a cleanser and a microfibre cloth can remove almost as many germs as chemical disinfectants.
Allow the disinfected area to remain visibly wet for 5 minutes of sitting/dwell time. This allows the cleaner to kill germs.
Sodium carbonate is a skin irritant. Wear gloves when using this cleaning solution.
Have any other recipes you would like to share? Send us at hello@ecomauritius.mu  🙂