Sustainable Building
08/09/2022
The building sector is one of the most important areas of activity in all countries worldwide. This industry is essential to a country as it provides a high level of employment and contributes greatly to the economy of a country, besides providing a decent roof to people with water and sanitary facilities.
However, today more than ever, with the climate change and the scarcity of resources, there is a need to practise a sustainable development in this sector. Building materials are not the only elements to consider. A green building is one that has a low impact using resources efficiently and being environmentally responsible during its full life span. Sustainable building practices also include taking into account the environment of the structure, the optimal use of natural resources to save energy, e.g. use of systems to cool or warm the house by exploiting hot and cold air streams, the positioning of window panes to optimise natural light inside, recycling of domestic water for use in the garden, installation of photovoltaic panes for autonomous production of electricity… there are so many developments in this area.
Why then are not all the new constructions green? The built environment contributes for a large share to gas emissions, resources waste, deforestation, absence of recycling, and sometimes to visual pollution as well. It Is however still difficult to have all the stakeholders on the same page be it for economic or political reasons. Fortunately, the sector is increasingly under pressure both from the authorities and the public to address environmental issues.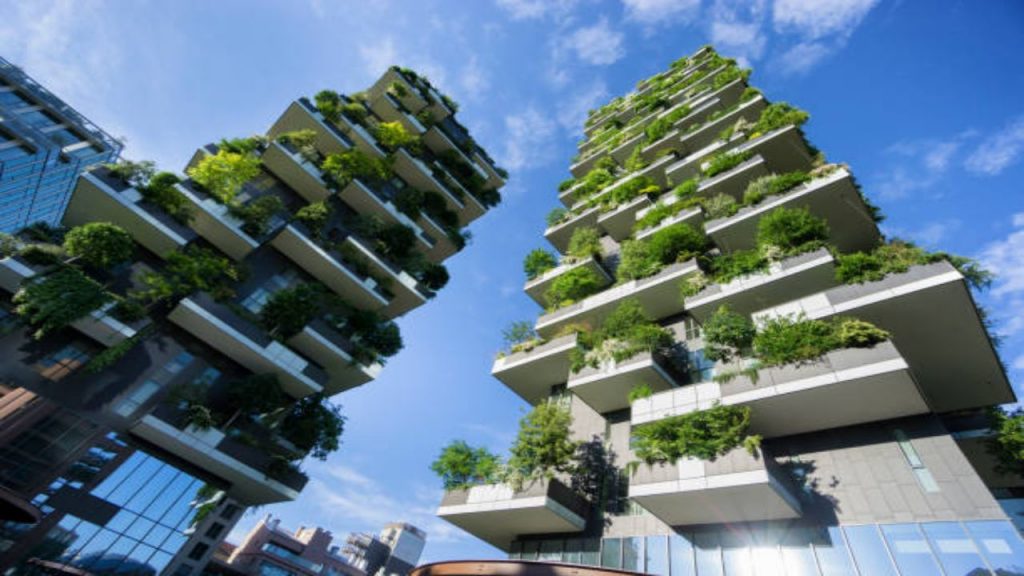 Design guidelines
One of the main concerns when designing a sustainable building is to reduce carbon impact and optimise natural resources, while trying to reduce waste and the use of fossil energy. Some architects would even encourage the conversion of existing building rather than building from scratch as they consider it less costly.
There are six basic principles that need to be considered in a green building:
The site potential – It is essential to have an intelligent integration of the building in its environment, whatever the size or the purpose, and even if it's a building that is being renovated. The impact on the surrounding fauna and flora must be minimised or better, null.
Energy consumption – One of the strengths of green buildings is the intelligent use of natural elements to reduce energy produced by fossil fuels. For instance, the building is designed using air streams through its ventilation to have the adequate temperature inside all year round, as well as natural daylight to reduce use of artificial lighting.
Water conservation -The building must include a sustainable water supply as well as am adequate recycling system
Building materials – Materials should be reused and recycled as much as possible, and sustainable materials are to be chosen, while always putting safety first.
Indoor Environment Quality (IEQ) – It seems obvious but improving the quality of the environment inside a building will definitely enhance the health of those occupying the place. The optimisation of natural light, the ventilation, the acoustic conditions, the materials used are among the elements to consider for an adequate IEQ.
Implication of operations people – Once the building is completed, it is essential that people from the operations and maintenance teams can ensure the proper running and maintenance of the various features of the building. They should therefore be involved with the design teams from the start.
Green houses
With the raise in awareness for sustainable building, there are so many ways and materials that are being used across the globe, some born from new technologies, but many inspired from older generations and ancestral knowledge from all continents.
Houses can be built with a vast variety of materials
Bamboo
Cellulose insulation
Cob
Composite wood (when made from reclaimed hardwood sawdust and reclaimed or recycled plastic)
Cordwood
Cork
Hemp
Insulating concrete forms
Lime render
Adobe
Straw and earth
etc ..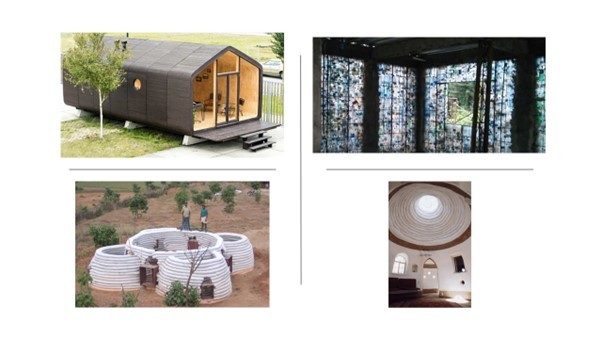 Houses made with cardboard, plastic bottles, and sandbags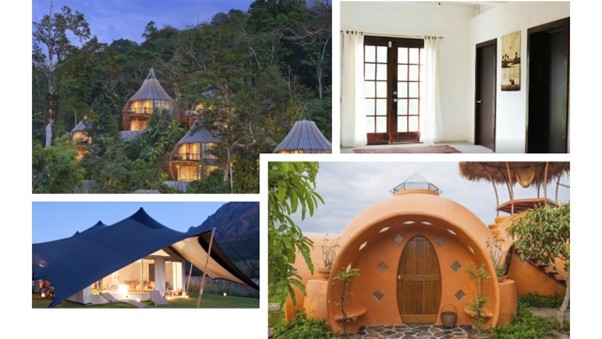 Houses in nature, made from aircrete, tented and dome houses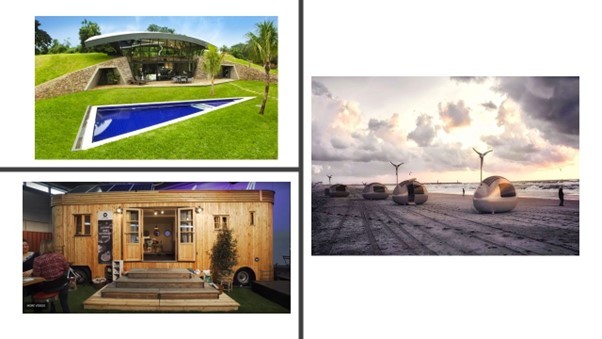 House built into earth, house on wheel, Off-grid eco-houses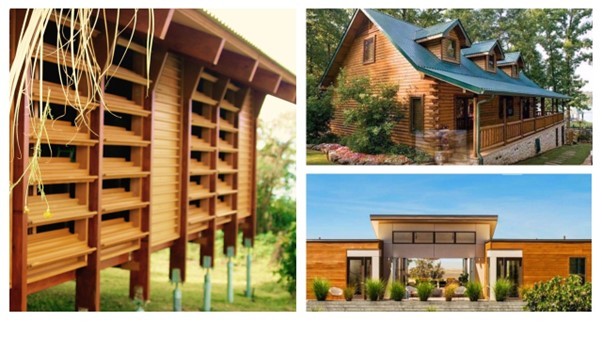 Houses allowing natural air flow and Bamboo house (top right)

Houses made from recycled plastic
Green building in Mauritius
In Mauritius, we are only starting to get things rolling in terms of sustainable building. Most of the green initiatives in this sector come from the private industry. However, the government with the public and NGO's pressure, has also started to collaborate with architects and engineers to make sustainable constructions for new projects.
The proof that sustainable building can be achieved in Mauritius is the Mauritius Commercial Bank eye-like modern building in Quatre-Bornes. It is the first in the southern hemisphere to get a BREEAM rating. BREEAM is the world's leading science-based suite of validation and certification systems for sustainable built environment. It's a 10-storey 10,000  m2 building with plan offices, auditorium, a canteen and additional spaces. The complex also encompasses a 980m2 photovoltaic farm.  Everything has been carefully thought with an attention to orientation, shading, renewable energy, and rainwater re-use. The building orientation ensures that the façades face due north and south with generous overhangs which virtually eliminate all direct solar gains.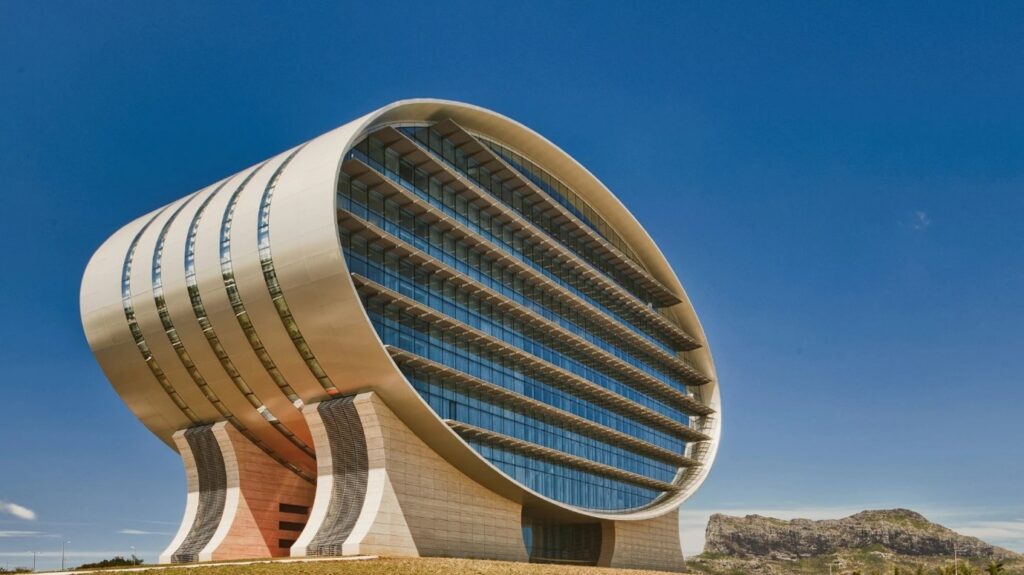 The Mauritius Commercial Bank eco-building in Quatre-Bornes (arup.com©)
For the greater good
Building sustainably may take more time and cost more than a standard construction, for the time being, but it's a win-win situation for the construction sector as well as for the public in general. In the long term, with the optimisation of resources, there will be a decrease in costs and use of fossil resources. This also have a positive effect on public health, leading to a better productivity and less money spent on medical treatments. And, of course, caring for the environment is saving our planet, and even if it takes time, the need for a common vision among the public and private sectors is essential!
Sources:
Wikipedia
www.construction21.org
www.arup.com