Introducing our Eco Superstar
03/09/2020
Hi, Diane! Tell us a little about yourself!

Our Eco-Superstar is Mauritian, studied in South Africa then London, and qualified as a Holistic Health Practitioner and Nutritionist, learning about essential oils, yoga, and exercise as well. Our Eco-Superstar came back to Mauritius to practice in 2005. I have two beautiful daughters, and at home we've been aiming and trying hard to live consciously with Nature, recycling, buying in bulk, avoiding packaging wherever possible, and following a semi-vegetarian diet in the same spirit. I am crazy about massage, and looking for something different in my work, in 2015 I became the distributor & trainer of Bellabaci Cupping Massage System, which I discovered after the birth of my second daughter (I needed something extra to remove the stubborn cellulite, and that was it!! Bellabaci Body Cups!). They offer an easy at-home and in-spa solution for many ailments, as well as amazing natural non-staining oils made with high-quality oils.
Your products are lovely! They smell good, look good, how do they work?



The carrier vegetable oils are of superior quality, as they are made from medicinal herbs such as St John's Wort, Moringa, Black Cumin Seed, Arnica, Baobab, Argan….and high-quality Fractionated Coconut Oil. In it, we have mixed organic essential oil and homeopathic remedies: so, the essential oils' small molecules carry all these therapeutic ingredients to the tissues to help heal and repair. The winning team is the oils and the massage cups!
The massage cups are made of medical-grade silicone, making them completely hygienic and hypoallergenic. Upon completion of applying to the face or body, you simply need to squeeze the cup, place it on the skin, and glide it in circles, zigzags or draining movements for a few minutes. Cupping massage not only stimulates skin repair and elasticity, but also detoxifies, and soothes any type of pain, working deeply into the tissues, bringing the stagnant tissues and lymph to the surface of the skin, and increasing elimination and blood circulation. This is how it works wonderfully on cellulite, slimming, digestive problems, inflammation, and muscular pains!
Our Favourite today is the BELLABACI STRESS NO MORE GENIE 250 ML! We know the 250 ML gel can be MASSAGED or just applied….we massaged around our chest and neck. After the crazy months, we had to get our site up and ready. We needed this extra HELP to CALM, RELAX and SLEEP BETTER. With the super cold days, we so needed to HYDRATE & SOOTHE STRESSED SKIN so we applied on our faces. It does CONTAIN THERAPEUTIC OILS SUCH AS LIME, YLANG-YLANG, GERANIUM, PATCHOULI, and JASMIN. We definitely feel better (and hopefully LOOK better too 😊 )

You do! Bonus: It is 100% NATURAL, VEGAN, CRUELTY-FREE, NON STAINING, NO PARABENS. On top of that, it is found in an ECONOMICAL FORMAT & the bottle is RECYCLABLE.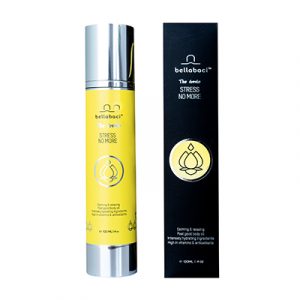 What is environment-friendly about it?
Firstly, every ingredient is ethically sourced as locally as possible in South Africa and surrounding areas such as Madagascar. The products are not tested on animals and are 100% vegan. Thanks to their non-staining "benefits". Towels in salons don't need to be changed so often, saving on resources in the long term. The products last longer thanks to the high spread-ability – you won't have to buy bottles often! And lastly, the bottles are recyclable. Learn more about Bellabaci Products HERE!
Thanks, Diane!